gm. Nowy Staw, pow. malborski, woj. pomorskie

Until 1945 Brodsack TK (Gotha, Endersch, Schrőtter);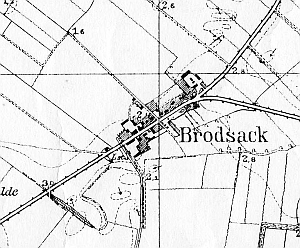 The village was mentioned in 1314 and was granted the rights in 1381. In 1776, the following Dutch names were mentioned: Dick, Epp, Cornies, Neufeldt, and Neustteter. In 1820, the village had 118 residents, including 18 Mennonites; the manor had 23 residents, including 14 Mennonites.
Village layout - linear village, originally along the Nowy Staw - Świerki road, currently along the road to Nowy Dwór; 2 large farms in the northern section of the village and 1 in the southern section.
The cultural landscape is in decline. Already in 1986, out of ca. 10 historical homesteads, very few had historical building. Currently, there are mainly brick residential and farming buildings from the beginning of the 20th century. The field layout and the system of draining canals have survived.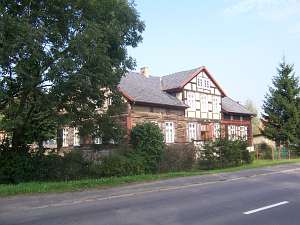 A house from the mid 19th century. It has a stone/brick foundation. It is a one-storey wooden building with a pointing sill. In the bottom section it has a corner-notched log structure with boarded quoins; gables have half-timbered construction. The building has an attic room in the eastern slope of the roof. The southern gable elevation has 4 axes and a two-level gable with 5 axes in the bottom section (double window in the upper section). The eastern elevation is symmetrical with 7 axes, a centrally located entrance, and a 3-axial attic room.
---
Lipińska, t.III, poz. 191; AG , BF.