gm. Malbork, pow. malborski, woj. pomorskie

Until 1945 Stadtfelde, Stadtfeld (Schrötter)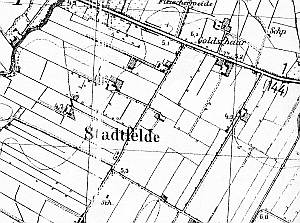 Cisy is a colonial village and was probably founded in the 17th century or at the beginning of the 18th century. The following Mennonite names were mentioned in 1776: Barg, Bueckert, Dick, Friesen, Claassen, Reimer, Suckau, Thiessen, Tiesen, Wiebe, and Willmp. In 1820, the village had 86 residents, including 36 Mennonites.
Village layout - marsh row village with a cemetery in the western side of the road, in the northern section of the village.
The cultural landscape of the village has been completely transformed. After 1945, a state farm was established in the southern section of the village. Only several historical buildings from the beginning of the 20th century have been preserved, including small brick houses (currently plastered) - no. 28 (coach house) - a Mennonite cemetery (completely devastated), and surrounding vegetation (in vestigial form). At the end of the 1980s, a house was erected in the cemetery.

The Mennonite cemetery has a square-like layout and one section. It has been completely destroyed.
---
BF, AG IV