gm. Nowy Dwór Gdański, pow. nowodworski, woj. pomorskie

Until 1945 Tigerweide Reimerswalde TK (Schrötter) Tieger werde (Gotha) Tygerwejde (Endersch)
Medieval fortifications were located in the area; they were marked on the 18th century map Enderscha - Krakau Schloss as ruins. The village was re-founded by Dutch settlers in 1743. In 1776, the following Mennonite surnames were mentioned: Bargen, Bruhn, Horn, Kettler, Martzentin, Meklemburg, Nickel, Olbitz, Quiring, and Suckau. In 1820, there were 65 residents, including 47 Mennonites. In 1885, the village had 262 ha of arable land, 13 houses, 122 residents, including 40 Mennonites. In 1946, the largest farm was converted into a state farm (PGR).
Village layout - a Waldhufendorf village in the north-south road axis and a flood bank Waldhufendorf village on the eastern bank of the Linawa; it included ca. 12 - 15 homesteads located on terpy.
The cultural landscape have been entirely destroyed. One of the farms was converted into a state farm and a housing development. Historical buildings have survived only on 3 terpy; one still has a house connected to a cowshed. The field layout has been transformed; the old vegetation was replaced with a poplar avenue. The road still has a coble stone surface.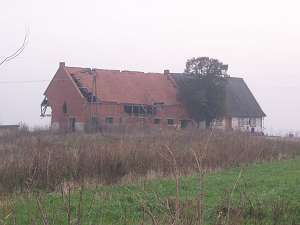 A building without a number is a Dutch homestead of the longitudinal type located on a terpa in the northeastern section of the former state farm in an east-west line. The house is situated on the eastern side and is separated from the cowshed by a fire wall. It was erected in mid 19th century and rebuilt at the end of that century. It has a stone-brick underpinning, a vertically boarded gable, and a double pitched roof covered with asbestos tiles. It was made of wood and plastered. The interior has been transformed. The gable elevation has 3 axes and a two-level gable with 3 axes in the lower section and a single window above. The southern elevation has 6 axes with an entrance in the 3rd axis from the east and another in the western axis. The cowshed was erected in the '40s in place of an old cowshed. The building is in poor condition.
---
SGKP, t.XII,s. 337; AG; BF.