gm. Tczew, pow. gdański, woj. pomorskie

Until 1945 Czattkau TK (Schrötter)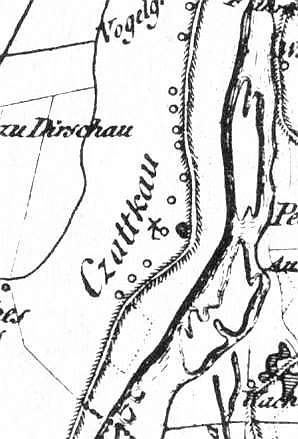 The village was founded in the 14th century. It was owned by the Cistercian monastery in Pelpin. The area was re-settled in 1774. At the end of the 18th century, the village had 17 houses; the sources from 1776 mentioned the surnames Boschmann, Dick, Ens, Heidbecht, Claasen, Manteler, Tiesen, Wall, Wiens, and Willms. In 1820, there were 151 residents, including 71 Mennonites. In the second half of the 19th century, the village had 2091 morgas of land, 28 houses, and 132 residents, including 48 Mennonites.
Village layout - flood bank Waldhufendorf village located on terpy on the western side of the Vistula flood bank.
The cultural landscape of the village has survived in fragments. In 1986, 12 homesteads out of 15 had historical buildings. Currently, practically all buildings are modern. Field layout, network of draining canals, and some homestead vegetation are detectable.

There are no preserved buildings associated with the Dutch colonization.
---
SGKP, t.I, s. 776; Lipińska 3-54, AG, BF.