gm. Lichnowy Wielkie, pow. malborski, woj. pomorskie

Until 1945 Damerau TK (Gotha, Endersch, Schrőtter)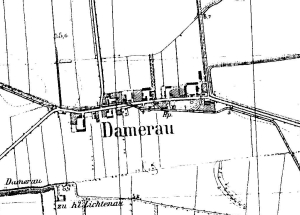 The village was mentioned in 1316 and was granted the Chełmno charter in 1352 by Winrich von Kniprode. It was also mentioned on the occasion of emigration of the Wienp family to Paraguay. In the 2nd half of the 19th century, the village had 100 włókas of farmland, 357 residents, and 21 houses.
Village layout - a linear village in a east-west line; there is an intersection of the roads to Parczewo and Lisewo in the western section of the village and the road to Lichnowy Wielkie in the eastern section; buildings are located on both sides of the road with large farms in the northern section and a cemetery in the western section, on the southern side.
The cultural landscape includes:: homestead layout, fragments of a field layout in the northern and southern sections of the village, cemetery vegetation, remains of a gravestone, and wooden houses no. 46, 54, and 57.

No. 46 is a house from the 1st. quarter of the 19th century. It was extended at the end of the 19th century. It is situated on the northern side of the road, facing it with its ridge. It has a corner-notched log structure with quoins covered with boards, a half-timbered, boarded gable, and a high tile roof. The gable elevation has 2 axes and a 4-axial gable with two windows enclosed by small rectangular windows and a small semicircular window above.
---
SGKP, t.I, s. 928; Schmid, s.35; Lipińska, t. III, poz. 98