gm. Nowy Dwór Gdański, pow. nowodworski, woj. pomorskie

Until 1945 Neunhuben (Schrötter), Neuehuben (Endersch)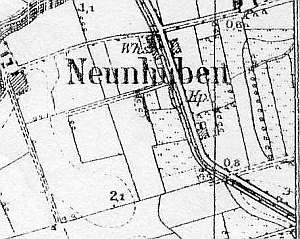 The village was established in the 3rd quarter of the 16th century by Dutch settlers. The sources from 1727 mentioned 10 Mennonites. In 1776, the sources mentioned the following Mennonite names: Albrecht, Baltzer, Bartel, Konrad, Epp, Friesin, Gedert, Goertz, Kliewer, Kroacker, Lehn, Nachtigal, Penner, Schroeder, Schultz, and Suckau In 1820, the village had 99 residents, including 13 Mennonites.
Village layout - row village located on terpy
The cultural landscape has been severely transformed. Basically, the village no longer exists. In 1980s, no significant examples of historical buildings were found. Currently, only vegetation remained on old terpy.

There are no buildings unequivocally associated with the Dutch colonization.
---
Penner, s. 77; Lipińska, t.III, poz. 149; AG, BF