gm. Leoncin, pow. nowodworski, woj. mazowieckie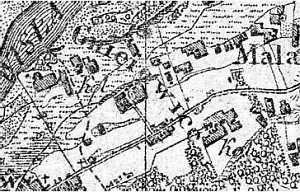 The village was founded at the beginning of the 15th century. The Dutch colonists were imported in the 18th century and settled between the road and the river. In 1827, the village had 23 houses and 232 residents. In 1881, Gniewnice Stare had 8 houses and 360 morga of land, Gniewnice Nowe had 15 farms and 235 morga in area, while Gniewnice Folwarczne - 21 farms and 303 morga of land.
The village has a linear layout and is located to the north of Leoncin, on both sides of the Nowy Dwór Mazowiecki - Kamion road. All homesteads are located on the artificial rises along an east-west line; the buildings face east with their residential sections.
All elements of the cultural landscape characteristic for the Dutch colonization are detectable.
Only one object has survived to the present day; it dates from 1926.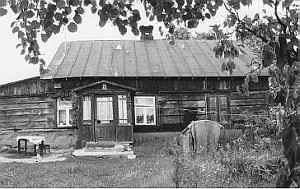 Object no. 20 is a residential building located in the eastern section of the village. A residential section and a cowshed are located under one roof. High walls have a corner-notched log structure with dovetail halvings and protruding log ends (2.40 m). They are covered with a 3.65 m double-pitched roof. It has a rafter-collar beam structure, which is reinforced with queen posts and roofed with sheet metal. The building has a two-bay, five-axial layout with three-axial residential section. The building has a centrally located traditional brick and tile fire system with a narrow chimney. An entrance hall has been added to the southern side of the building; it has an entrance that leads to the kitchen. The building is in poor condition; the farm section is damaged and is not in use. It is covered with a pent roof.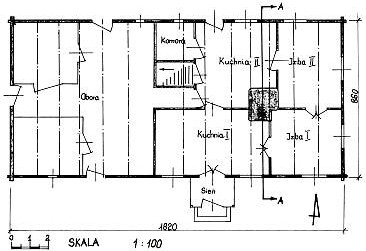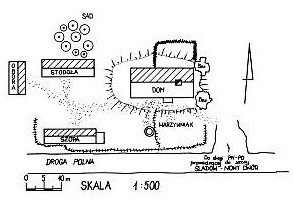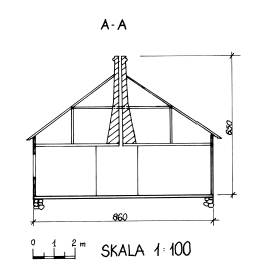 The cemetery is located by the Leoncin-Gniewice Nowe road and has a rectangular layout. It functioned until 1944; it is completely destroyed and overgrown with trees and bushes. One gravestone has survived (Karolina Werman, deceased in 1930).
The architectural documentation of six non-existent buildings is in the author's collection (BK - Jerzy Szałygin, 1995).. All buildings were built of wood and date from the beginning of the 20th century. House no. 2, 1st quarter of the 20th century; no. 3, ca. 1920; no. 6, ca. 1915; no. 10 from 1919; no. 12 from 1922; no. 13 from 1928.
---
SGKP, t. II, 1881, s. 628;
T. Swat, Mennonici na Mazowszu...