gm. Stegna, pow. nowodworski, woj. pomorskie

Until 1945 Glabitsch (Endersch, Schrötter)
The village was founded in 1600 (1626) by settlers. The sources from 1734 mentioned 7 Mennonites: Hans and Willem Claassen, Butzgan, Degen, Klingenberg, and Willem Wiggervol.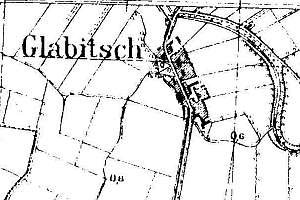 Village layout - Reihenddorf (row village) located on terpy along the Jantar - Rybina road.
The cultural landscape has survived in fragments. In the 1980s, 11 homesteads still had historical buildings. Currently, almost all old buildings have been replaced; original layouts of Dutch homesteads have been partially preserved. A system of draining canals, a field layout, willows along canals, and old trees around homesteads are still detectable.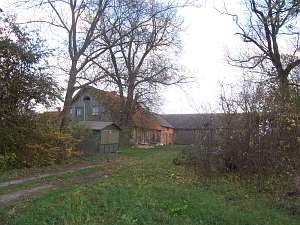 A building without a number is a Dutch homestead of the angular type situated in the eastern section of the village, on the northern side of the road, facing it with its ridge. The cowshed has been rebuilt and is separated by a fire wall. The barn is modern. The house dates from mid 19th century. It has a corner-notched log structure with quoins covered by boards imitating Tuscan pilaster, a vertically boarded gable, and a pantile roofing. The gable elevation has 3 axes and a two-level gable (4 axes in the lower section) with a pair of windows enclosed by rectangular small windows and a semicircular window above. The western elevation has 5 axes and a centrally located entrance.
---
Penner, s. 73; Lipińska, t. III, poz.239.