gm. Ostaszewo, pow. malborski, woj. pomorskie

Until 1945 Schönhorst Gotha, Endersch, Schrőtter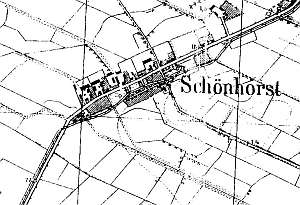 The village was mentioned in 1333 and received Chełmno rights in 1349 from the Grand Master Heinrich Tusmer. Its area had 50 włókas. In 1772, farms belonged to 8 Mennonites and 4 other owners. The sources from 1776 mentioned the following Mennonite surnames: Dau, Dick, Harder, Penner, Toews, and Wiebe. In 1820, the village had 294 residents, including 43 Mennonites. In 1885, the village had 516 ha of farmland, 38 houses, and 442 residents, including 45 Mennonites. The following names were mentioned Ens, Dyck, Neufeld, Riesen, Wiebe, Wiens as owners of several dozen-hectare farms The 1936 sources mentioned the following families: Dyck, Ens, Froese, Martens, Regehr, Schulz, Wiebe, and Wienp.
Village layout - a linear village in a north-south line, along the Nowa Cerkiew - Ostaszewo road with the majority of buildings on its western side.
The cultural landscape is in good condition; homestead and field layouts, old linden, oak, and chestnut trees lining the roads are detectable. Most of the buildings date from the end of the 19th and beginning of the 20th centuries. These are brick buildings with wooden porches in front of entrances (No. 18 and 20). Several wooden houses have survived, including an arcaded house.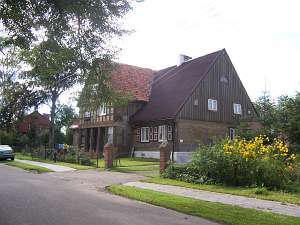 No. 44 is an arcaded house from 1760 (the arcade dates from 1838) situated on the western side of the road, facing it with its ridge. It has a corner-notched log structure with quoins covered by boards, a vertically boarded, half-timbered gable and an arcade located in the center of the 7-axial eastern elevation. The arcade has a half-timbered structure with plastered brick filling.
---
SGKP, t. X, s. 389; Schmid, s.282-283; Penner, s 81; ML t. III, s. 38-384; Lipińska, t. III, poz. 205; AG IV.