gm. Miłoradz, pow. malborski, woj. pomorskie

Until 1945 Gnojau (Endersch, Schrötter), Gnoyau (Gotha), u Schmida; Gnoyow, Gnojow,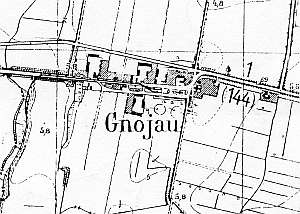 The village was founded in 1338 under the Chełmno laws by the Grand Master Dietrich von Altenburg on 57 włókas and 5 morga of land. The sources from 1582 mentioned the presence of Dutch colonists. In 1820, the village had 278 residents, including 5 Mennonites. In 1868, Gnojewo had 123 włókas of farmland, 31 houses, 438 residents, and 10 Mennonites.
Village layout - linear and square village with a cemetery and a church in the center, on the eastern side of the former square. Before 1945, there were two large homesteads and an inn on the northern side of the square, and one homestead on the southern side.
The cultural landscape of the village has been partially transformed. The layouts of original homesteads are undetectable as a result of the construction of a road in 1940s. The examples of historical architecture include masonry buildings from the beginning of the 20th century. Two old arcaded houses (one from 1800 belonged to Goetz) and other buildings directly associated with the Dutch colonization have been demolished. The village has a church from the 14th century located in the old Lutheran cemetery with gravestones in the form of stalls and cippus located in the village center. There is also a Catholic church from 1863 with a cemetery in the eastern section of the village.

---
SGKP, t. II, s. 639; Schmid, s. 55 - 64; AG IV, Lipińska,t.3- 140