gm. Suchy Dąb, pow. gdański, woj. pomorskie

Until 1945 Münchengrebin, München Grebin TK (Endersch, Schrötter), Monik Grebis (Gotha).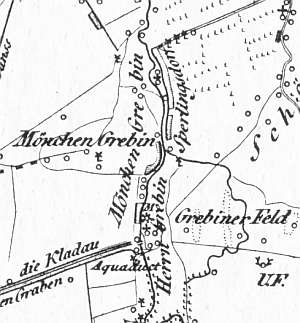 The village was founded in 1317. In the 17th century, it belonged to the Cistercian monastery in Pelpin. In the 2nd half of the 19th century, the village had 1657 morgas of farmland, 202 residents, and 19 houses. Currently, Grabowo is a part of the southern village.
The village layout - flood bank row village.
The cultural landscape of the village has partially survived. The spatial layout is detectable. In 1980s, 8 out of 9 homesteads were still present, but the buildings have survived in fragments. Currently, the majority of buildings are modern.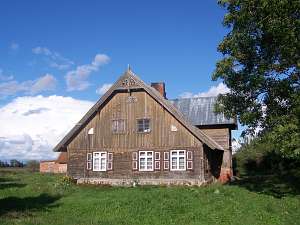 No. 54 is a house from 1880. It has a corner-notched wooden structure with quoins covered with boards, a wooden extension on the east side supported by 4 poles; the arcade is fitted with glass. The building has a low pointing sill, a vertically boarded gable, a queen post - purlin roof structure, and a roof partially covered by tiles and partially by asbestos tiles. The interior has a two-bay layout with wider southern bay and the large room located in the southwestern corner, a black kitchen in the large room bay and a Z-shaped hallway, which separates rooms in the northern section. The frontal elevation has 7 axes with an entrance located in the center between two narrow windows. The entrance has a walled and glazed-in arcade. The gable wall has 3 axes (4 axes in the bottom) and a two-level gable with windows enclosed by quarter circular small windows and a semicircular window above.
---
SGKP, t.II, s. 768; Lipińska,t.3- poz. 41.