gm. Stare Pole, pow. malborski, woj. pomorskie

Until 1945 Jonasdorf TK (Schrőtter), Ionasdorf (Gotha), Ionasdorff (Endersch),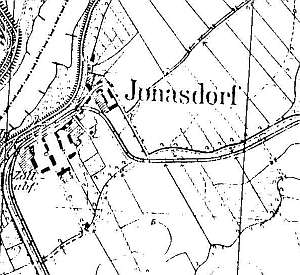 The village was established in 1399. The sources from 1776 mentioned the surname Wiebe. In 1820, the village had 121 residents, including 1 Mennonite.
Village layout - flood bank linear village located on the eastern bank of the Nogat.
The cultural landscape of the village is detectable. Great number of historical buildings from the beginning of the 20th century have survived, including a stunning villa (no. 35) several small houses, and homesteads with large farm buildings enclosing yards. The most interesting buildings include a house no. 29 from the beginning of the 19th century, which until 1945 housed an inn, and a house no. 17 from an old Dutch homestead. 4 arcaded houses have not survived.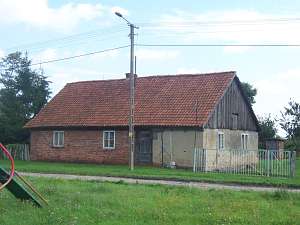 No. 17 is a house from an old Dutch homestead dating from the mid 19th century. At the beginning of the 20th century, the eastern wooden walls were replaced by brick structures; the remaining wooden walls (the farm section) were plastered. The cowshed that was connected to the residential section was taken down.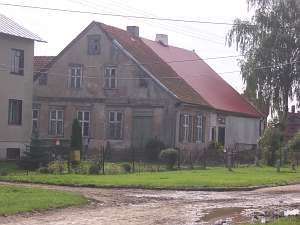 ---
Kloeppel, s. 150, AG IV, Lipińska, t. III, poz. 219.