gm. Gronowo Elbl±skie, pow. elbl±ski, woj. warmińsko - mazurskie

until 1945 Eschenhorst TK (Gotha, Endersch, Schrötter)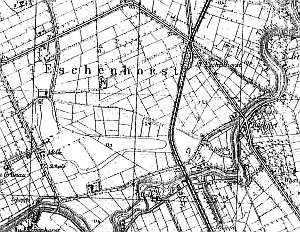 The village was founded by Dutch colonists between 1592 and 1595. The sources from 1776 mentioned Joann Harms and widow Quiring.
Village layout - single homestead village located on terpy
The cultural landscape has been completely transformed by the establishment of a state farm (PGR). The arcaded houses were taken down; the gate was transferred to Kmiecin and was placed in front of the church. Remains of a park and alleys are detectable.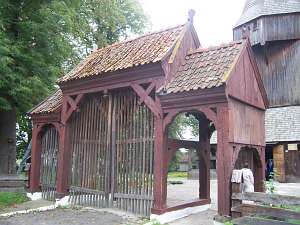 The entrance gate to the Peter Fransen's old farm is currently located in front of the church in Kmiecin. It has a wooden structure, 3 axes, four pairs of posts connected by struts and cross-wise beams, double-pitched roof covered by pantiles and ridge tiles. The central section is raised. Carved pinnacles are located on ridge edges. Upper sections of the side walls and gables are vertically boarded. A profiled board imitating cornice is located under the eaves.
---
Schmid, s. 36, Lipińska, t. III, poz.234.