gm. Brochów, pow. sochaczewski, woj. mazowieckie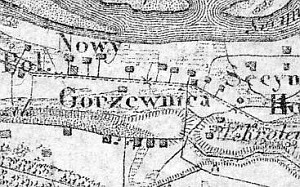 The village was settled by the Dutch before 1790. In 1827, it had 6 houses and 45 residents.
Gorzewnica is located on the southern bank of the Vistula - directly by the river - on the northern side o the Nowy Kazuń-Kamion road, between Kromowo and Piaski Duchowne.
The cultural landscape associated with the colonists is detectable; however, it has undergone considerable transformation in the post-war period. All buildings have been erected in the post-war period.

---
SGKP, t. II, 1881, s. 730.