gm. Stare Pole, pow. malborski, woj. pomorskie

1945 Katzenase (Gotha, Endersch), Katznase (Schrőtter); w dokumentach zapisane nazwy: Kacznas, Caczinnase, Kaczennase, Kacinos, Kaczinos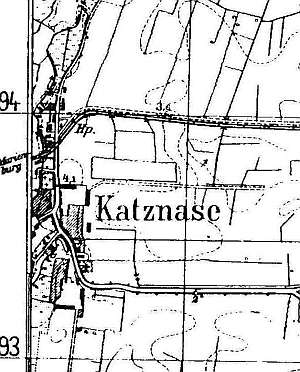 The village was established in 1367 by the Grand Master Winrich von Kniprode probably on a site of an Old Prussian settlement. In 1820, the village had 276 residents, including 4 Mennonites. In the 2nd half of the 19th century, the village had 123 włókas of farmland, 203 residents, and 33 houses.
Village layout - a former estate with a manor and a park in the western section and a cemetery and a church in the eastern section, and partially, a linear village; a map from 1667 shows 5 large farms with arcaded houses located on the northern side of the road and one farm on the southern side.
The cultural landscape has been severely transformed. Old manor buildings have been modified by state farm's facilities. Currently, the buildings are in a state of ruin. Only a masonry granary has survived. A manor house of Eberhard Zimmermann with remnants of a park and an area of the old church cemetery has also survived. The half-timbered Lutheran church from 1705-1706 was transferred to Elbląg. The arcaded house has been taken down.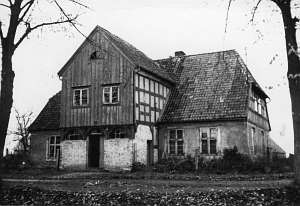 The arcaded house was erected in the 2nd quarter of the 19th century and was situated in the village center, on the western side of the road, facing it with its ridge. It was built out of wood (plastered) on a stone underpinning. The building had an extension resting on 4 posts (the arcade was walled-in), a boarded frontal wall, and a partially-hipped, ceramic roof. The gable elevations had 2 axes, while the frontal elevation - 7 axes with an arcade in the 3 central axes. The building no longer exists.
---
SGKP, t.III, s. 658; Kloeppel, s. 151, Schmid, s. 69 - 78, AG.IV, BF, Lipińska, t. III, poz. 220.