gm. Ojrzeń, pow. ciechanowski, woj. mazowieckie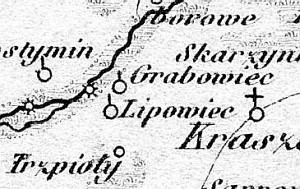 The first mention of the village dates from the middle of the 15th century. It was settled by the Dutch ca. 1820. The village was inhabited by Mennonites, who were associated with the Wola Wodzyńska church. In 1827, the village had 11 houses and 76 residents. In 1881, the village had 25 houses and 173 residents. The village had a windmill.
Grabowiec is a linear village and is located to the north of Ojrzeń near the Łydynia river. No material evidence of the colonists' residence is present.

---
E. L. Ratzlaff, Im Weichselbogen. Mennonitensiedlungen...;
SGKP, t. II, 1881, s. 777.