gm. Ojrzeń, pow. ciechanowski, woj. mazowieckie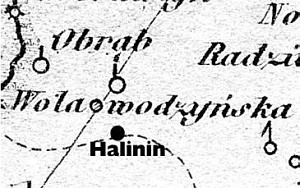 The village was founded ca. 1820 and partially settled by Mennonites, who were associated with the Wola Wodzyńska church.
Halinin is a linear village located to the south of Wola Wodzyńska. No remains have survived after the colonists' residence.

---
E. L. Ratzlaff, Im Weichselbogen. Mennonitensiedlungen...;
SGKP, t. III, 1882, s. 20.