gm. Gronowo Elbląskie, pow. elbląski, woj. warmińsko - mazurskie

Until 1945, Nogathau TK (Endersch, Schrötter)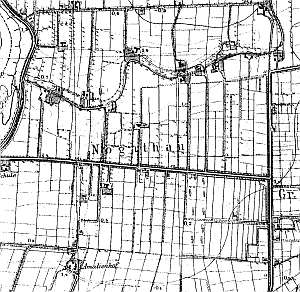 The village was established in 1632 and was situated within the Elbląg estate. The 18th century sources mentioned 4 Mennonite surnames: Allert, Dircksen, Claasse, and Penner. In 1920, the village had 139 residents, inlcuding 25 Mennonites.
Village layout - colonial village on terpy located on the northern and southern sides of the road from Jegłonik-Wikrowo westward towards the Nogat flood bank. The former estate of Amalienhof is currently located within the village area.
The cultural landscape includes: detectable system of draining canals and polders and remains of terpy. There are no historical buildings. Currently, a modern housing complex associated with a state farm is located in the area.

There are no buildings associated with the Dutch settlers.
---
Piątkowski 62, AG IV, BF, Lipińska, t. III, poz. 89.