gm. Malbork, pow. malborski, woj. pomorskie

Until 1945, Kezelitzke TK (Schrötter), Koselitzky(Gotha) Koseliczky, (Endersch), Koszelitzke. Warnau,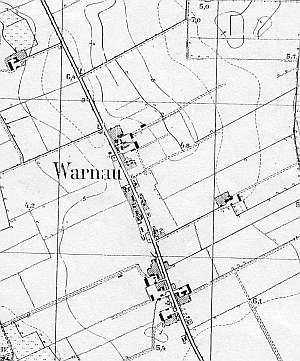 The village was granted the charter in 1388. In 1471, the charter was renewed. The first Dutch settlers were mentioned in 1622. In 1776, the village had 14 Mennonite families with 99 individuals. In Koschelitzke Heubuden, there were 7 Mennonite families with 30 individuals. In 1820, the sources mentioned 49 Mennonites, who constituted almost 25% of the village population. In 1880s, the village had a Mennonite community, but it functioned only temporarily. In 1936, the village had 57 residents; the most common names included: Fieguth, Penner, Rumpel, Wiebe, Enns, Epp, Wiens, Enss, Dyck, Knels, and Puls.
Village layout - a two-sided linear village in a north-south axis located by the Malbork-Nowy Staw road with 3 large farms in the southern section of the village, one in the northern section, and 6 located in the southern, northern, and eastern colonies.
The cultural landscape has survived in fragments. The historical buildings have been almost entirely replaced by modern objects. Only one homestead (no. 44), several detached buildings from the beginning of the 20th century, and an alley (along the road do Malbork and partially within the village) lined with linden trees have survived . There is a paved school soccer field in the area of the old cemetery.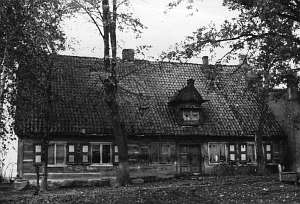 A house from an old Dutch homestead of the longitudinal type (farming buildings were separated by a fire wall). The building was erected in the 1st quarter of the 19th century. It had a stone underpinning, a log structure with boarded quoins, a vertically boarded gable, a rafter - collar beam roof structure, and a pantile roof with a small attic room. The gable elevation had 3 axes, two-level gable with 4 axes in the bottom section, two windows enclosed by quarter circular skylights, and a small rectangular window above. The southern elevation had 7 axes with an entrance in the 4th axis. The building no longer exists.
No. 22 is a homestead of the longitudinal type. The old buildings were replaced at the beginning of the 20th century. The original layout was preserved.
No. 44 is a homestead situated in the northern section of the village, on the eastern side of the road. It includes a detached house and detached outbuildings located around a rectangular yard. The house has a log structure with half-timbered gable and attic room. It is covered by a gambrel ceramic roof.
The current outbuildings replaced the older ones in the 1930s.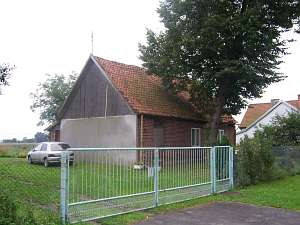 No. 19 is a house from an old Dutch homestead. Originally, it was made of wood, but wood was replaced with brick at the beginning of the 20th century. The original interior layout was preserved.
---
ML, t.IV, s. 468; Lipinska, t. III, poz. 111;AG