gm. Suchy D±b, pow. gdański, woj. pomorskie

Until 1945, Güttland TK (Schrötter) Lütlandt (Endersch), Liesslant (Gotha)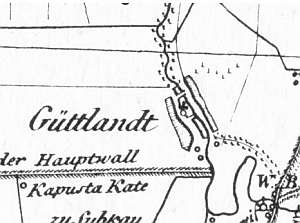 The village was formed from two settlements: Kösslin (founded by the Teutonic Knights in 1353) and Jetlun, which was mentioned in 1373 and was a part of the Gdańsk estate between 1454 and 1793. At the end of the 18th century, the village had 24 houses and in 1820 - 558 residents, including 6 Mennonites.
The village layout - originally oval village, later - linear village.
The cultural landscape have partially survived with detectable spatial layout, 14th century Virgin Mary Rosary church in the village center, and historical buildings from the end of the 19th and beginning of the 20th centuries, including a wooden building of the old school (no. 45). Three arcaded houses have not survived. The most interesting building is a half-timbered granary from the end of the 18th century located in homestead no. 116. Construction of modern buildings is progressing rapidly.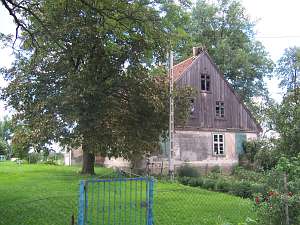 No. 6/8 is a house situated in the colony, in the southern section of the village (Ptaszniki). It used to be a part of a Dutch homestead, but outbuildings adjacent to the northern side of the house no longer exist. There is a small park on the eastern side. The house faces the road with its gable. It was erected in 1844 on a stone/brick underpinning. The building has a plastered corner-notched structure with quoins planked with boards imitating Tuscan pilaster, a vertically boarded, half-timbered southern gable, a small half-timbered attic room in the eastern roof slope, and a double-pitched, ceramic roof. The building has a rectangular layout with two bays (southern bay is wider), the large room in the southeastern corner, a black kitchen in the large room bay, and a bipartite, L-shaped hallway with a tunnel to the cowshed. The gable elevation has 3 axes, two-level gable, 2 axes in the bottom level, and a single window above. The western elevation with 6 axes has been modified.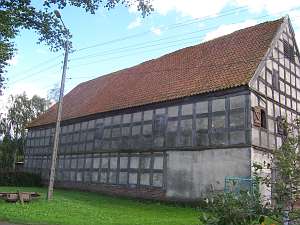 No. 116 is a granary situated in the southern section of the village. It dates from the 18th century and has a half-timbered plastered structure with brick filling. The building is covered with a high, ceramic roof; its interior is divided into 4 spaces: 2 small ones on the western gable side with a staircase leading to the 2nd storey and an entrance on the southern side.
---
Lipińska,t.3- poz. 44; KZSwP, s. 19-23; AG