gm. Stare Pole, pow. malborski, woj. pomorskie

Until 1945 Königsdorf TK (Gotha, Endersch, Schrőtter)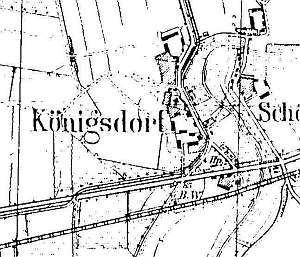 The village was granted the Chełmno rights in 1340 by Rudola Kőnig. The villag had 40 włókas of land. In 1485, the King Kazimierz renewed the rights. The half-timbered church from 1468 (renovated multiple times) was taken down in 1816 and replaced by a new church in 1820. In 1820, the village (with Rothebude) had 317 residents, including 6 Mennonites.
Village layout - a flood bank linear village located on the western side of the old Nogat; the village included 3 large farms and a church.
A spatial layout, old homesteads, a church with a cemetery (with Baroque stalls), fragments of the second cemetery in the northern section of the village, and a Gothic chapel have survived. There are several historical wooden buildings (a curate's house that used to stand by the Malbork highway was transferred after 1945) from the 19th century and brick houses from the beginning of the 20th century. Two arcaded houses and a brick baroque presbytery have not survived.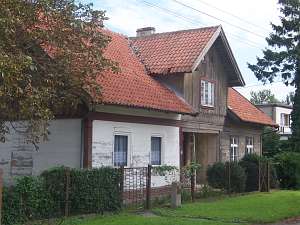 No. 17 is a wooden building located on the eastern side of the western street, facing it with its ridge. The house was erected at the end of the 19th century and has a corner-notched structure and a half-timbered pointing sill, an extension, and gables (boarded vertically). The frontal elevation has 7 axes with a recessed arcade in the central axes and a centrally located entrance. The fretwork decoration of the gables has survived.
---
Schmid, s. 81 - 87, Lipińska, t.III, poz.225; AG