gm. Tczew, pow. tczewski, woj. pomorskie

Until 1945, Kriefkohl (Schrötter), Kribekohl (Gotha) Kriffkohl (Endersch)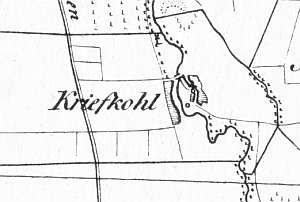 The village was founded in 1363 under the Chełmno law by Winrich von Kniprode with the settlements of Schönewiese and Freiwalde added later. In 1820, the village had 323 residents, including 4 Mennonites. In 1885, the village had 3961 morgas of land, 30 houses, and 560 residents, including 5 Mennonites.
Village layout - a single side linear village and a flood bank row village.
The cultural landscape has been transformed by modern building developments. In 1980s, 10 out of 12 traditional homesteads had historical buildings including 2 arcaded houses (one has survived) and a 14th century church.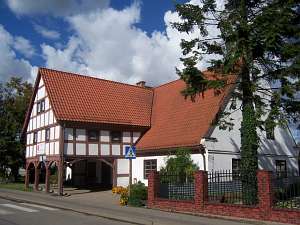 No. 34 is an arcaded house situated on the eastern side of the road. It is made of plastered brick and has a half-timbered arcade supported by 4 posts with angle braces and half-timbered side walls. It has a high ceramic roof and a heavily modified interior.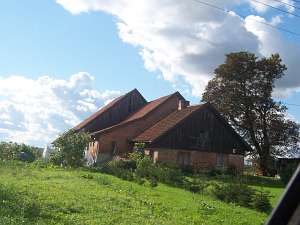 No. 18 is a Dutch homestead of the longitudinal type situated on a terpa in the northwestern section of the village (in the colony), facing the road with its gable. It consists of masonry house and cowshed and a wooden barn. The house was erected at the end of the 19th century in place of an earlier building. Originally, it was made of wood, then - bricked. It has a pointing sill, a ceramic roof, a 2-axial gable elevation and a single-axial gable.
---
SGKP, t. IV, s. 805; Lipińska,t.3- poz. 45; KZSwP, s. 22-23.