gm. Nowy Staw, pow. malborski, woj. pomorskie

Until 1945 Leske, Lesken TK (Endersch, Schrőtter)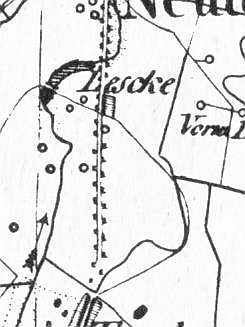 The village was founded in 1333 as a seat of a Teutonic alderman. The village had a church and a manor, which were mentioned in the 18th century, but by 1820 were in ruins. The 1776 sources mentioned the following Mennonite names: Barckmann, von Bergen, Dick, Fast, Loewen, Mattis, Peters, Spenst, and Wiebe. In 1820, the village had 116 residents, including 35 Mennonites.
Village layout - a square hamlet.
The cultural landscape of the village has survived in fragments - remains of 3 homesteads of the Dutch type (no. ...), a chestnut tree alley, and a coble stone street.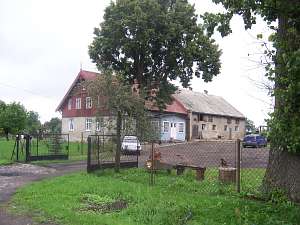 No. 2 is a Dutch homestead of the longitudinal type situated on the eastern side of the road, facing it with its gable with a modified cowshed and demolished barn. The house dates from the 4th quarter of the 19th century. It is a single-storey building with a pointing sill. The lower section has a plastered corner-notched structure, while the pointing sill and a gable - a half-timbered, vertically boarded structure. There is a wooden porch in front of the entrance (on the south). The interior layout has been preserved with the large room in the southwestern corner, a centrally located black kitchen, and a shallow farming section on the east, separated from the residential section by a hallway.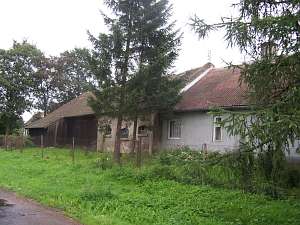 No. 4 is a Dutch homestead of the longitudinal type, on the eastern side of the street, facing it with its ridge. It consists of a wooden (recently bricked) house, a masonry cowshed, and a wooden barn with two cubbyholes.
---
Schmid, s.126; Lipińska, t.III, poz. 191; BF; AG.