gm. Malbork, pow. malborski, woj. pomorskie

Until 1945 Lesewitz Klein (Gotha, Endersch, Schrőtter)
The village was mentioned in 1321. The sources from the beginning of the 19th century mentioned 14 Mennonites.
In the 2nd half of the 19th century the village had 54 włókas of farmland, 111 Catholics, 85 Lutherans, 19 Mennonites, and 9 houses.
Village layout - linear hamlet.
The cultural landscape is in good condition with detectable spatial layout, almost all historical buildings preserved, including the Peter Loewen's house, a narrow-gauge railway station, and fragments of vegetation surrounding homesteads.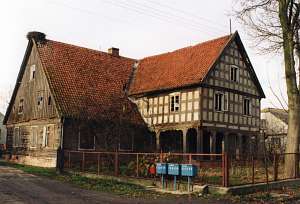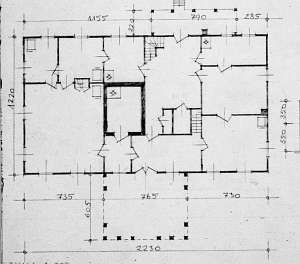 No. 2. is an arcaded house built in 1805 by Peter Loeven for Abraham Dick. It is situated in the southern section of the village, on the western side of the road, facing it with the ridge. It has a brick underpinning, a corner-notched log structure with quoins covered by boards imitating pilaster, vertically boarded gables, a half-timbered arcade (western side) supported by 6 frontal and 2 side posts and half-timbered walls, a rafter - collar beam roof structure, and a pantile roof. The building has a 2-bay layout with a wide eastern bay, the large room in the southeastern corner, a black kitchen in the large room bay, an L-shaped bipartite hallway separating the southern and northern sections. The gable (southern) elevation has 3 axes and a 2-level gable with 4 - axes in the lower level with 2 windows enclosed by skylights bound by segmented arches, and a single window above. The eastern elevation has 7 axes with a 2-axial extension and an arcade in the 3 central axes, and a centrally located entrance.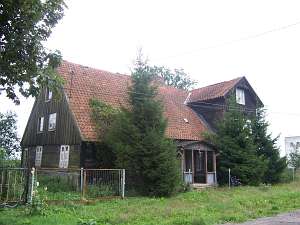 No. 15 is a building situated on the eastern side of the road. It consists of two sections: the older (northern) one dating from the 2nd quarter of the 19th century and a perpendicular southern section (with a pointing sill) dating from the 4th quarter of the 19th century. The house has a partially corner-notched and partially tenon-post structure with half-timbered gables and a pointing sill. The entrance has a porch decorated with fretwork.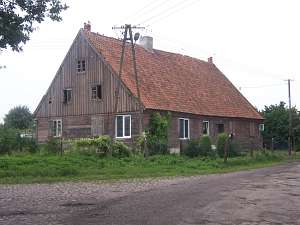 No. 28 is a building situated in the southern section of the village, facing the street with its ridge. It dates from 1837 and has a log structure with vertically boarded gables and a double-pitched ceramic roof.
---
SGKP, t.V, s. 91, AG IV Lipińska, t. III, poz. 113