gm. Cedry Wielkie, pow. gdański, woj. pomorskie

Until 1945, Letzkau TK (Endersch, Schrötter) Lebkow (Gotha)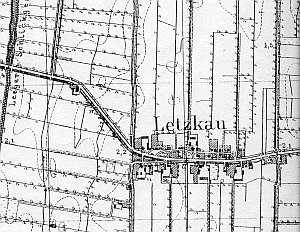 The village was founded by the Teutonic Knights under the Chełmno law in 1384. In 1552, the charter was confirmed by the king Zygmunt August. The village was completely destroyed multiple times - in 1458 by the Teutonic Knights and then in 1626 by Swedes. In 1820, the village had 350 residents, including 9 Mennonites. In the 2nd half of the 19th century, the village had 4403 morgas of land, 197 Catholics, 339 Lutherans, 2 Mennonites, and 37 houses.
Village layout - linear and square village in a west-east line.
The cultural landscape is in good condition. The spatial layout is detectable with a rebuilt St. Brother Albert church located in the rectangular area of the old cemetery and traditional location of houses. In 1986, 14 historical homesteads had old buildings. The majority of the historical buildings have survived, including 5 masonry and 2 wooden buildings from the 2nd and 3rd quarters of the 19th century. One longitudinal homestead with replaced buildings has survived. The area experienced a recent intensification of building construction. Fragments of an oak alley (road from Kiezmark) and a chestnut - linden tree alley within the village have survived.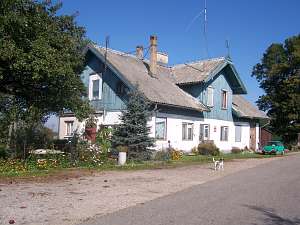 No. 54 is an old inn situated on the Vistula flood bank, facing the road (running on the flood bank) with its ridge. The building dates from the mid 1800s. It is a single-storey building with a pointing sill and an attic room in the southern roof slope. The building has a bricked corner-notched log structure and vertically boarded gables, a pointing sill, and an attic room. The eastern elevation has 6 axes with an entrance in the northern axis. The gable elevation has 3 axes, a 3-axial gable with a centrally located window enclosed by small square windows. The interior has been modified.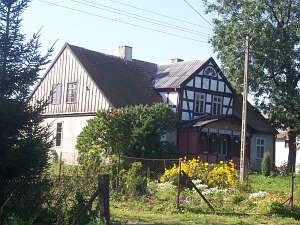 No. 21 (24) is a house situated in the western section of the village, on the southern side of the road, facing it with its ridge. It was dates from 1849 and has a bricked wooden structure with a half-timbered attic room in the northern roof slope, boarded gables, and a wooden porch in front of an entrance. The interior has a two-bay layout with the large room in the northeastern corner, a centrally located black kitchen, and a Z-shaped hallway. The northern elevation has 7 axes with a centrally located entrance, a porch in the 3 central axes, a two-axial, half-timbered attic room, and a semicircular window in the gable. The eastern elevation has 2 axes, 4-axial gable, and two windows enclosed by quarter circular skylights.
---
SGKP, t.V, s. 175; KZSwP, s. 24, Lipińska,t.3- 8; AG .