gm. Nowy Staw, pow. malborski, woj. pomorskie

Until 1945 Lindenau (Endersch, Schrötter) Lingenau (Gotha)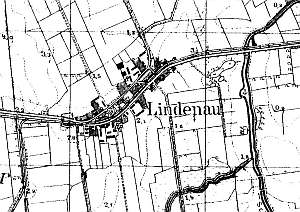 The village was founded in 1321 by Verner von Orseln on 50 włókas. The St. Barbara chapel was erected in the 14th century and taken down ca. 1820. In 1638, the residents built the Lutheran church, which was also demolished at the beginning of the 19th century. The 1776 sources mentioned two surnames Dick and Friesen. At the beginning of the 19th century, the village had 316 residents, including 10 Mennonites.
Village layout - an oval village in a northeast - southwest line with two large farms in the southern section of the village and 3 in the northern section.
The cultural landscape has been entirely transformed by buildings of a state farm from 1970s. Only two houses from Dutch homesteads have survived. They are 1.5-storey buildings. The buildings have been bricked and modified (outbuildings demolished). There is an old Mennonite cemetery located between the road and remains of the narrow-gauge railway.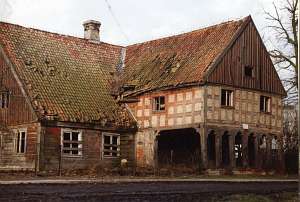 The village had an arcaded house from 1793 erected for Jacob Bestvader. The building had a corner-notched structure with quoins covered by boards imitating pilaster, vertically boarded gables, a brick foundation, a half-timbered arcade supported by 7 posts and half timbered walls, a rafter - collar beam roof structure, and pantile roofing. The gable elevation had 3 axes, a two-level gable with 3 axes at the lower level and a semicircular window above. The western elevation had 6 axes with an entrance in the 3rd axis and an arcade in axes 2-4. The building has been demolished.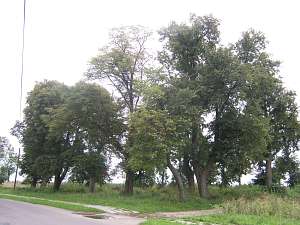 ---
Schmid, 152-153; Lipińska, t. III, poz. 192, AG IV, BF.