gm. Miłoradz, pow. malborski, woj. pomorskie

Until 1945 Montau Gross TK (Gotha, Endersch, Schrötter)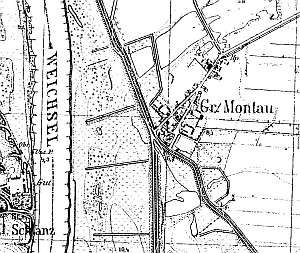 Originally, the village was inhabited by Slavic population. It received the Chełmno charter in 1321 and in 1340, the residents began the construction of a church; the parish was founded in 1383. The sources from 1820 mention no Mennonites.
Village layout - currently, multi-street village (Sakowa - Lipińska) - the western section was deformed by a high flood bank; buildings are located on the external sides of the southern and northern roads, by the road to Bystrze, and in the colony in the eastern section of the village (several homesteads) There is a cemetery with a Peter and Paul Gothic parish church located by the flood bank in the western section of the village.
The cultural landscape has been partially preserved. Examples of historical architecture include ca. 8 masonry buildings from the beginning of the 20th century (with a presbytery built in a eclectic Art Nouveau/Neobaroque style), a thatched building no. 36, a probably modified house from the 1st half of the 19th century, and 5 wooden buildings.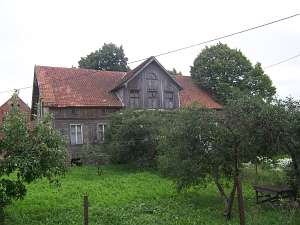 No. 45 is a house from the end of the 19th century situated in the southern section of the village, between a road and farming buildings surrounding the court. The building faces the road with its ridge. It is a single storey building with a post pointing sill, a vertically boarded half-timbered attic room, a log structure with quoins covered by boards, and vertically boarded half-timbered gable. The building has a wooden, glazed-in veranda located in the central axes of a 7-axial, frontal elevation.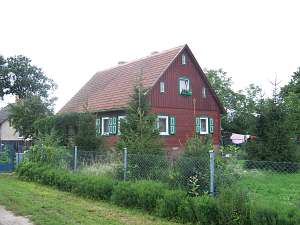 No. 82 is a building dating from the beginning of the 20th century. It has a log structure, vertically boarded gables, a high, ceramic roof, and a porch located in the center of a 5-axial frontal elevation.
---
Schmid, s. 180 - 191, AG IV, Lipińska,t.3- 142