gm. Strzelce, pow. kutnowski, woj. łódzkie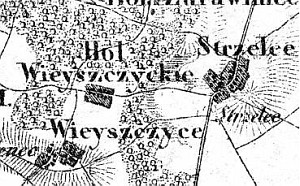 The village was founded before 1790, and is located to the south of Wieszczyceq. In 1827, Tabella already included two villages with the same name - Wieszczyce (one of them was probably the village of Holendry). For the last time, the name Holendry occurs on the Chrzanowski map. The settlement ceased its existence after 1859.
Wieszczyce is a linear village located on the western side of the Kutno-Gostynin road, to the west of Strzelce. The village of Holendry was located to the south of Wieszczyce. No material evidence remained after the Dutch colonists in either of these villages.

---
M. Zbieranowski, Wypisy do słownika wsi holenderskich...