gm. Elbląg, pow. elbląski, woj. warmińsko - mazurskie

Until 1945 Bollwerk, Teranova, (Endersch) Alt Terranova, Neu Terranova (Schrőtter),TK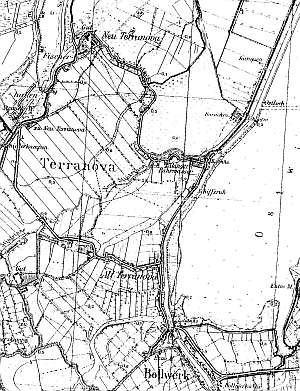 The village of Nowakowo includes three settlements: Bollwerk, Stare Nowakowo - Alt Terranova, and Nowe Nowakowo - Neu Terranova with Bollwerk being the oldest part; it was mentioned in 1348. At the time, Bollwerk belonged to Stare Miasto in Elbląg. The village had a river crossing protected by a small castle. There was also a famous inn (modified between 1632 and 1637), which belonged to the British Eastern Company. In the interwar period, the village had 523 ha and 334 residents. The area of Nowe and Stare Nowakowo was a wetland until the Prussian administrator of the Elbląg estate, Poehling began to drain it in 1741. Initially, the village of Stare Nowakowo (Terra Nova) was established. A new village was established - Neu Teranova (to distinguish it from an earlier settlement) - in 1808 when draining of additional areas in the northern section was completed. The presence of Mennonites has been confirmed only in a section of old Bollwerk. In 1820, the village had 102 residents, including 9 descendants of Dutch settlers.
A village layout of Bollwerk has been modified; a flood bank linear village layout was probably formed in the 2nd half of the 18th century.
The cultural landscape has been destroyed. Almost all historical buildings in the eastern section of Bollwerk have been replaced by modern houses. There are several examples of historical architecture in the western section: a Neoclassic house no. 9, an old inn from the beginning of the 20th century, two longitudinal homesteads with brick houses (recently modified) from the beginning of the 20th century, a bricked wooden house, a wooden house (in ruins) from the mid 19th century, and remains of an old Dutch homestead. Almost all old houses that were located in the northern section have been taken down after a flood in 1980s, with an exception of one house from an angular Dutch homestead. An arcaded house from 1818 and the inn "a house under seven tops" have been taken down after 1945.
Old buildings are rapidly disappearing. Basically, one Dutch homestead and some remains have survived. Two arcaded houses, which were part of Dutch homesteads, have been taken down. New buildings began to appear in old homesteads in 1980s; this process became particularly intense in 1990s. Polders, a system of ditches and canals, and terpy have survived. Local roads and homestead driveways are lined with willows. Ashes and limes have been planted later along the main road.

No. 30 is a house from an old Dutch homestead situated in the northern section of the village, by a road bend. The building faces the road running on the flood bank with its ridge. It dates from the 1st quarter of the 19th century and has a log structure, a log attic room in the eastern roof slope, and a vertically boarded gable.
---
Kerstan, s.150-153, ML, IV, s.393, Mamuszka, s.98-99, Lipińska, t. III, poz. 67, 70, AG.