gm. Wilga, pow. garwoliński, woj. mazowieckie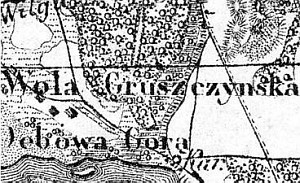 The village was founded by the Dutch settlers in the first half of the 19th century. In 1882 it had 11 houses and 118 residents and 146 morga in area. Holendry is a linear village located on the eastern side o the Vistula along the flood-bank between the river and Wilga.
The cultural landscape has been transformed and is barely detectable with an exception of a fragment of the old, low flood-bank, which borders the Wilga's old river bed from the south. The buildings are modern and are situated on the eastern side of the road that runs along the flood-bank.

---
SGKP, t. III, 1882, s. 99.