gm. Nowy Dwór Gdański, pow. nowodworski, woj. pomorskie

Until 1945 Neudorf, (Schrötter)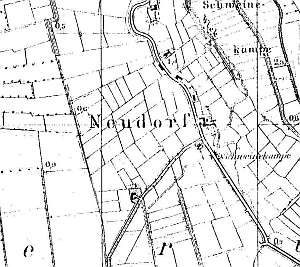 The village was founded in 1715 in the late colonization period. In 1820, it had 77 residents, including 45 Mennonites.
Village layout - a marsh linear village on the eastern side of the Stobny - Marzęcin road, formed by 5 farms and an additional one located in a colony by the local road towards Dryling.
The cultural landscape has been completely modified. Currently, the majority of buildings are single- or two-family homes of a former state farm employees erected after 1945. Three wooden houses (modified at the end of the 19th century; one recently bricked) from old Dutch homesteads and one wooden house from the interwar period have survived. A house, a barn, a brick outbuilding, and a destroyed park have survived from the largest homestead.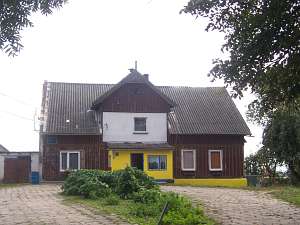 No. 3 is a house from an old angular Dutch homestead. It was erected at the beginning of the 19th century and modified at the end of the 19th century. The building is situated in the southern section of the village. Farming buildings were attached to its northern side. An old park has partially survived in the eastern section of the homestead. The building has 1.5 stories, a vertically boarded attic room in the western roof slope, a vertically boarded (later) log structure, a half-timbered pointing sill, and a vertically boarded gable. The interior has been transformed. The gable elevation has 3 axes and a 2-level gable (4 axes in the bottom) with two windows enclosed by smaller windows topped by segmented arches and a semicircular skylight above. Fragments of fretwork decoration in the eastern gable and attic room, notched purlin beams, window frames, and a cornice board have survived.
---
Lipińska t. III, poz. 164;AG .