gm. Stegna, pow. nowodworski, woj. pomorskie

Until 1945 kolonia należąca Until Tujska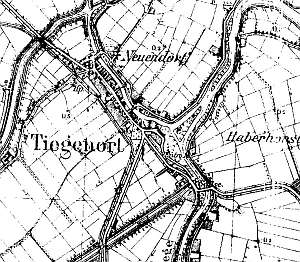 The settlement was sectioned off from the village of Tujsk after 1945 with a large farm converted into a state farm with a housing development. The old homestead has been severely transformed. A house has remained.
Village layout - an old single-homestead farm located on a terpa.
The cultural landscape has been heavily transformed. A house from an old Dutch homestead has survived.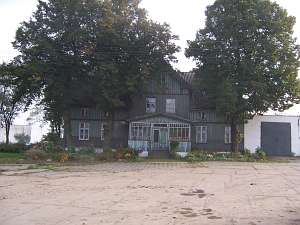 A house from a Dutch homestead of the longitudinal type (the farming section has been demolished) is situated in the southern section of the farm. It dates from the 3rd quarter of the 19 century. Until 1945, the house belonged to the Klaassen family. It is a single storey, vertically boarded, wooden building with a high pointing sill, an attic room in the northern roof slope, a wooden porch on the north side, a queen post - purlin roof structure with angle braces, and asbestos tile roofing. The gable elevation has been transformed and currently has 1 axis and a 4-axial gable with two windows enclosed by smaller windows topped by segmented arches and a skylight (above) consisting of a doubled form of the side windows. The building is decorated with fretwork between a pazdur and ends of a top plate. The northern elevation has 7 axes and a centrally located entrance with a wooden porch and a 2-axial attic room (with rich fretwork decoration) in the roof slope.
---
Lipińska t. III, poz. 164;AG .