gm. Zatory, pow. pułtuski, woj. mazowieckie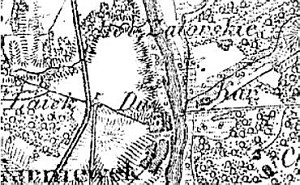 The village was founded by the Dutch settlers in the first half of the 19th century.
Holendry is a linear village located near the eastern bank of the Narew river parallel to Zatory.
The cultural landscape is in satisfactory condition - planted trees (willows and poplars) and drainage canals are distinguishable. There are no traditional buildings associated with the Dutch colonization.

---
SGKP, t. III, 1882, s. 99.