gm. Lichnowy, pow. malborski, woj. pomorskie

Until 1945 Parschau TK (Endersch, Schrötter)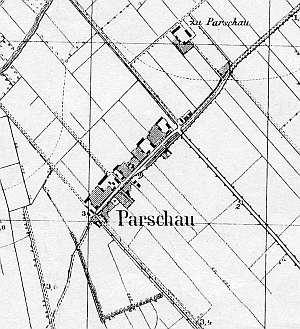 The village was mentioned in 1321 and received privileges in 1355 with 30.5 włókas of land. Documents mentioned Salomon Eck - an owner of an arcaded house from 1788 as well as 2 włókas and 19.5 morgas of land.
Village layout - a single-sided linear village.
The cultural landscape is in decline. In 1980s, surveyors identified only remains of wooden buildings. An arcaded house has been taken down (the second one had been demolished earlier). The examples of historical architecture include ca. 8 -10 brick houses from the beginning of the 20th century, an old Lutheran cemetery with fragments of old lime alleys, but with no gravestones. A field layout and a system of draining canals have survived.

There are no buildings clearly associated with the Dutch colonization.
---
Schmid, s.252; Lipińska t. III, poz. 102.