gm. Ostaszewo, pow. nowodworski, woj. pomorskie

Until 1945 Sand TK
A part of the village was sectioned off from Ostaszew. The layout is detectable on the Schrötter plan, but without its own name.
Village layout - a linear village and a colonial village.
The cultural landscape was modified already in the 20th century. Remains of Dutch homesteads are still detectable, but the buildings have been replaced.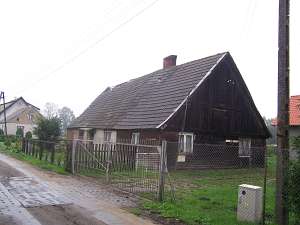 No. 45 is a longitudinal Dutch homestead consisting of a house and a cowshed covered by a common roof (the cowshed has been partially converted into an apartment, a barn - demolished) situated in the eastern section of the village, on the northern side of local road. The house was erected in the mid 19th century and has a horizontally boarded wooden structure, a vertically boarded gable, and interlocking tile roofing. The eastern elevation has 2 axes and a 1-axial gable. The southern elevation has 3 axes elevation has 3 axes with an entrance in the western axis.
---
Schmid, s.252; Lipińska t. III, poz. 102.