gm. Nowy Dwór Gdański, pow. nowodworski, woj. pomorskie

Until 1945 Pletzendorf, Peterhagenfeld (Endersch, Schrötter)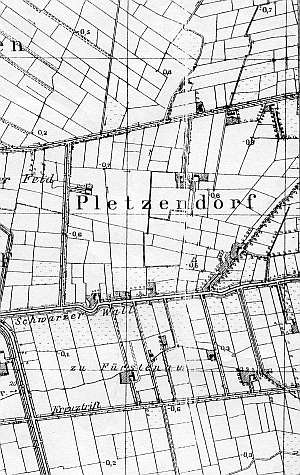 The village was probably established at the same time as Gozdawa after the forest belonging to the Elbląg Nowe Miasto had been cleared (after 1703). Currently, the village area includes part of northern lands of Kmiecin. At the end of the 20th century, the village of Starocin was sectioned off from Piotrowo.
Village layout - a single-homestead village on terpy, on the northern side of the Marzęcin - Nowy Dwór road, and on both sides of a causeway road from Nowy Dwór to Starocin.
The cultural landscape has survived in fragments. A part of the village was incorporated in the village of Starocin. A spatial layout with homesteads on terpy has survived; however, the majority of buildings have disappeared as compared to markings on a map from 1910. Ca. 5 Dutch homesteads of the longitudinal type have survived.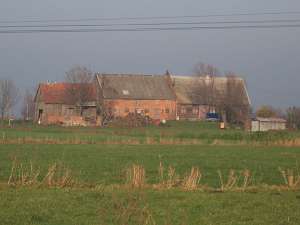 No. 6 is a longitudinal Dutch homestead situated in the northern section of the village, in a colony between the roads to Marzęcin and Starocin, facing them with its ridge. The house (east side) is separated from the farming section by a high fire wall. It was erected in the mid 19th century and has a log structure with quoins covered by boards imitating Tuscan pilaster, a vertically boarded gable, and asbestos tile roofing. There is a wooden granary/coach house in the southwestern section of the yard.
---
AG.