gm. Miłoradz, pow. malborski, woj. pomorskie

Until 1945 Wernersdorf TK (Schrötter), Wernersdorff (Endersch), Wernersd (Gotha),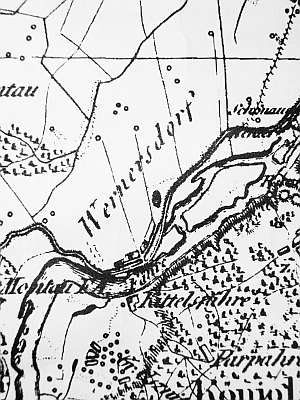 The village was granted privileges before 1330 by Werner von Orseln. In 1772, the village had 58 włókas and 8 morgas. Eight out of 16 landowners belonged to the Mennonite church. In 1776, the village had 10 Mennonite families with 48 individuals. In 1820, there were 344 residents, including 50 Mennonites with a similar number recorded in 1936. The surnames Claassen, Dyck, Harder, Mulle, Neufeld, Nickel, and Penner recur in records.
Village layout - a flood bank linear village located by the Nogat flood bank, a colonial village on terpy, and a marsh village.
The cultural landscape is well preserved with a detectable spatial layout, a field layout, and old homesteads. Modern buildings are still few. The historical buildings date from the beginning of the 20th century. These are primarily single-storey brick buildings with ceramic roofs, small, brick farming buildings, and large outbuildings in colonies. The village has several noteworthy buildings: a presbytery with splendid ceramic architectural detail (with filled figures), a 2-storey Neo-Mannerist town house (currently a store), and a school from 1909 erected in a regional style. Scarce wooden buildings have been bricked (e.g. houses no. 30 or 41). The Lutheran church was taken down after 1945. The St. Nicolas parish church was erected in 1829 in place of an earlier Gothic church (a tower from 1604 has remained). There is a Lutheran cemetery in the northern section of the village and a Mennonite cemetery (with remains of gravestones) in a colony.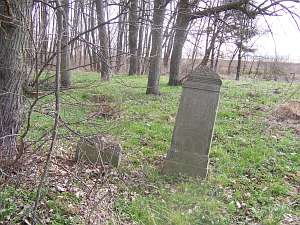 The Mennonite cemetery is located in the colony in the eastern section of the village, by an unused local road, on its eastern side. The cemetery layout has been heavily modified by sand excavation and forest encroachment. Some surrounding trees and a linden tree alley have survived. Several gravestones, including a stall of Maria Dyck from 1859 are detectable.
---
Schmid, s. 373 - 377, LM, t.IV, s.495, AG IV, Lipińska, t. III, poz. 145.