gm. Stegna, pow. nowodworski, woj. pomorskie

Until 1945 Poppau (Endersch, Schrötter)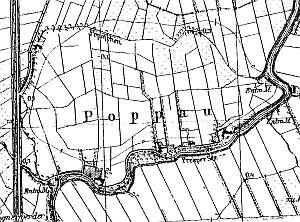 The village was founded by colonists in 1700. In 1820, it had 55 residents, including 25 Mennonites.
Village layout - a flood bank Waldhufendorf village located on the northern side of an old river bed of the Szkarpowa and a marsh row village.
The cultural landscape has survived in fragments. In 1980s, 3-4 out of 5 homesteads still had historical buildings. Those buildings have been replaced; old homestead layout has been partially preserved. A field layout and a system of draining canals are still detectable.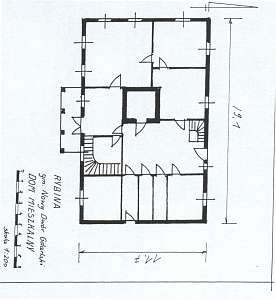 No. 12 is a longitudinal Dutch homestead situated in the eastern section of the village, on the southern side of the road, facing it with its ridge. The cowshed has been transformed and is separated from a house by a fire wall. The house dates from the mid 19th century. It has a corner-notched log structure with quoins covered by boards imitating rustication, a vertically boarded gable, a corner-notched log extension (south side) supported by 6 Tuscan columns, a queen post - purling, a two-collar beam roof structure, and asbestos tile roofing. The gable elevation has 3 axes and a two-level gable (4 axes in the lower section) with a pair of windows enclosed by rectangular skylights with triangular tops and a doubled form of the skylight above. The southern elevation has 7 axes with a centrally located arcade (with an entrance) supporting a 2-axial extension.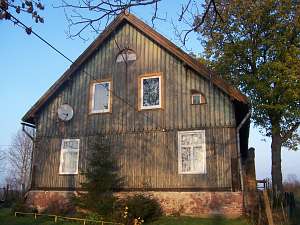 A building without a number is a house from a longitudinal Dutch homestead (farming section was separated by a high fire wall - demolished). It dates from the 3rd quarter of the 19th century and is situated in the northern section of the former state farm housing development (on a terpa), facing a driveway with its ridge. It has a brick underpinning, a vertically boarded log structure, a low pointing sill, and asbestos tile roofing. The interior has been modified. The gable elevation has 2 axes, a 4-axial gable with two windows enclosed by quarter-circular skylights, and a semicircular skylight above. The eastern elevation has 7 axes with a centrally located entrance.
---
Lipińska, t. III, poz.247; AG