gm. Baranów, pow. grodziski, woj. mazowieckie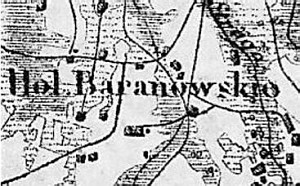 The information about colonization of Baranów and its surroundings (Holendry Baranowskie) comes from literature and archive materials. The colonists settled in the village in 1645 under the contract (ratified by the king Władysław IV in the Royal Register with the date June 9, 1645) concluded between Hieronim Radziejowski and the Dutch. They were granted a permission to settle in the following villages: Baranów, Jaktorów, Kaski i Szczawinek. The contract provided for a 6-year rent-free period, 100 włóka of wastelands and forests to be put under cultivation. In exchange, the Dutch were required to pay a rent of 30 florins per one włóka.
In 1882, 856 peasants resided in the village.
Holendry Baranowskie is a linear village located to the south-west of Baranów. The village have been completely transformed; there are no objects associated with the Dutch colonists.

---
AGAD, ASK, nr LVI, s. 4, II. f. 28;
I. Baranowski, Wsie holenderskie na ziemiach polskich, "Przegląd Historyczny", t. 19, 1915;
SGKP, t. III, 1882, s. 100.