gm. Nowy Dwór Gdański, pow. nowodworski, woj. pomorskie

Until 1945 Siebenhuben (Schrötter),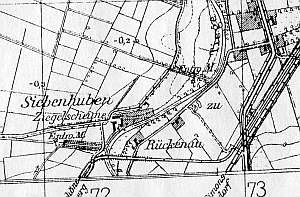 The village was established after 1550 by Dutch colonists. The sources from 1727 mentioned 5 Mennonites. The names Albrecht, Friesen, and Wieb were mentioned in 1776. In 1820, the village had 17 residents, including 12 Mennonites. The petition from 1868 was signed by Wilhelm Epp.
Village layout - a single-homestead, irregular village on terpy and a flood bank row village on the western bank of the Święta river.
The cultural landscape has been severely transformed. Basically, the village no longer exists. In 1980s, no significant examples of historical buildings were found. Currently, the village has primarily modern buildings with some remains of historical homesteads. The few remaining buildings have been heavily modified or replaced.

There are no buildings clearly associated with the Dutch colonization.
---
Penner, s.83; Lipińska, t.III, poz. 176 AG, BF, MP