gm. Markusy, pow. elbląski, woj. warmińsko - mazurskie

Until 1945 Stalle TK (Schrötter) Stall (Gotha, Endersch)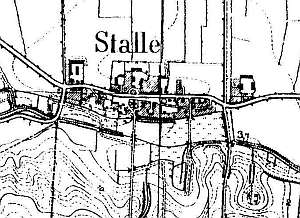 The village was established in 1363 under the Chełmno law with 30 włókas of land. It was pillaged in 1414; its privileges were renewed in 1470. In 1510, the village was purchased by Elbląg burghers and was incorporated into the royal estate in 1622. Sources from 1590 and 1726 mentioned Dutch settlers. The Froep family was mentioned in 1776. In 1820, the village had 191 residents, including 6 Mennonites. In 1887, the village had 505 ha of land, 29 houses, and 313 residents, including 17 Mennonites.
Village layout - an oval village in a east-west line along the Zwierzno - Żuławka road; the village included 4 large farms in the northern section of the village and smaller farms between them and in the southern section; the village has a church with a cemetery located on a slight rise in the center.
The cultural landscape has been relatively well preserved with detectable spatial layout and homestead location. Examples of historical architecture primarily include masonry buildings from the end of the 19th and beginning of the 20th centuries. A wooden church was demolished after 1945 and the house no. 134 - in 1980s. An arcaded house has survived in the western section of the village. The cemetery is unattended.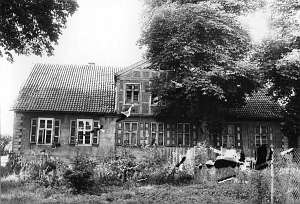 The house no. 134 was located in the village center, on the northern side of a road, facing it with its ridge. It was erected at the beginning of the 19th century and until 1945 belonged to Willi Albrecht. It had stone foundation, a plastered log structure, a half-timbered attic room in the southern roof slope, vertically boarded gables, a post - purlin, two-collar beam roof structure, and pantile roofing. The interior had been extended. Its eastern section had 1.5 bays with a corridor in the middle separating rows of rooms. There was a large, square room in the western section, in the southwestern corner. The eastern elevation had 4 axes and a 4-axial gable with two windows enclosed by two fan-shaped skylights and a semicircular window above. The frontal elevation had 7 axes and a 3-axial attic room in the middle. The building has been taken down.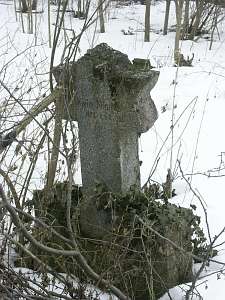 The Lutheran cemetery is situated in the western section of the village, on the southern side. The cemetery had a wooden church from 1707, which was demolished in the 1950s. The cemetery has been severely devastated. Until 1945, it had a gravestone of Anna Maria Gert, nee Jacobsen (d. 1796) in the form of a column. A stall and a gravestone of Erwin Nickel in the form of a six-pointed star have survived in the cemetery.
---
SGKP, T.XI, s.179; Schmid, s. 293 - 305; Lipińska, t. III, poz. 129;AG, BF.