gm. Miłoradz, pow. malborski, woj. pomorskie

Until 1945 Alt Weichsel TK (Schrötter), Alt Weychsel (Endersch), Alte Wiesel (Gotha),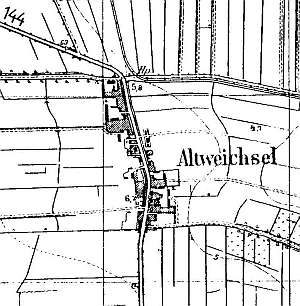 The village was established in 1338. The sources from 1820 did not mention any Mennonite residents. In 1885, the village had 794 ha of land, 25 houses, and 385 residents.
Village layout - a street/square village, currently - a linear village with buildings on both sides of the Kończewice - Lisewo road with two large farms on the western side, one on the eastern side, and two colonies by the eastbound road to Szymankowo.
The cultural landscape has partially survived with a detectable layout of homesteads, fields, and homestead vegetation. The majority of buildings are modern. The village still has a masonry house from the beginning of the 20th century and 2 wooden buildings (no. 6 from the end of the 18th century and no. 8 from the beginning of the 19th century), and a Lutheran (Mennonite?) cemetery.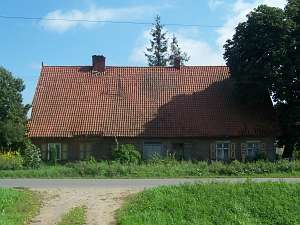 No. 6 is a former arcaded house erected at the end of the 18th century and extended at the beginning of the 19th century (an arcade was taken down after 1945). The building is situated in the southern section of the village, on the eastern side of a road, facing it with its ridge. It has a log structure with covered quoins and a tenon-post structure in long walls, a half-timbered, vertically boarded gable, a symmetrical, 7-axial elevation with a centrally located entrance, and a high, ceramic roof.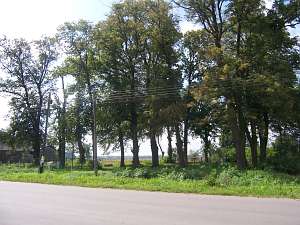 he cemetery was established on a rectangular plot and has a two-section layout with a preserved fragment of a row of trees surrounding the area - ashes and limes. A lime alley, a stall, and fragments of gravestones have also survived.
---
SGKP, t. XI, s.230, Lipińska, t.III, poz. 148; AG