gm. Stegna, pow. nowodworski, woj. pomorskie

Until 1945 Alte Babke TK (Schrötter)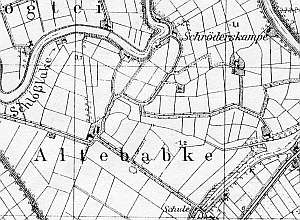 The village was established in 1858 by Dutch colonists. The sources from 1727 mentioned 20 landowners with the following names: Klassen, Dick, Esau, Jantzen, Kröger, Martens, Möd, Neufeld, Lehr, Penner, Prentz, Reiner, von Riesen, Viedt, and Wins. In 1820, the village had 150 residents, including 45 Mennonites. After 1945, one of the farm was converted into a state farm, which led to liquidation of remaining homesteads.
Village layout - flood bank linear village on terpy, on the northern side of the Łacha Izbowa; the settlement included 9 homesteads.
The cultural landscape has been completely transformed by buildings associated with the state farm. The manor house has been heavily modified and currently has no traditional features. The several remaining historical outbuildings have been transformed. There are remains of a longitudinal Dutch homestead to the west of the state farm area.

---
Penner, s.71; Lipińska, t. III, poz. 267; AG.