gm. Gostynin, pow. gostyniński, woj. mazowieckie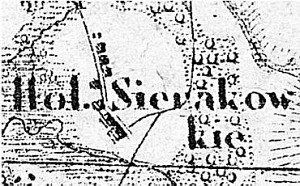 The village was settled by the Dutch colonists before 1796. In 1798, it already had an Evangelical school. By 1827, the village had 23 houses and 239 residents. In 1889, the village had only 3 farms and 5 morga of land.
Holendry Sierakowickie is a linear village located on the western side of the Kutno-Gostynin road along a north-south line. The buildings are situated on the western side of the village dirt road.
The cultural landscape is well preserved - it has a detectable field layout with willows planted on the balks as well as numerous drainage canals and ponds collecting the excess water. Two homesteads are situated on a rise. No examples of traditional Dutch buildings have survived.

---
Dzieje Gostynina...;
SGKP, t. X, 1889, s. 580;
Tabella, t. II, 1827, s. 170.