gm. Nowy Dwór Gdański, pow. nowodworski, woj. pomorskie

Ladekopp TK Until 1945 płd. część Lubieszewa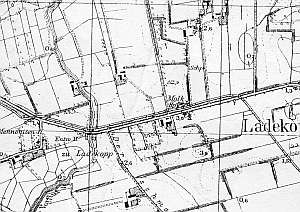 The colony was established during the colonization campaign at the end of the 16th century. After the division (1735-40) of the Gdańsk community Wielkie Żuławy into smaller communities, the Lubieszew (Orłowska) congregation was granted a permission to erect a house of prayer and establish a cemetery. In 1800, a branch chapel was erected in Pordenów. In 1882, the Lubieszew community merged with the community in Ormowskie Pole.
Village layout - initially, the cemetery area was removed from buildings of the closest colonies; it was surrounded by roads from 3 sides; after a state farm was established, the authorities built a row of a single-storey buildings on its northern side.
The cultural landscape has been severely modified. A new housing development was built; the church was taken down after 1945. The cemetery, which had been neglected for the past 50 years, was recently cleaned. Some gravestones were renovated and put up; a new fence was built.

The wooden Mennonite church was erected in 1768 by the cemetery. It was a rectangular building with a log structure, a high, double-pitched roof, an 8-axial frontal elevation, low windows with 2-level shutters, and entrances in the axes 2 and 6. The building had a 2-level gable with low, rectangular windows in three rows. The interior had 600 seats and a gallery on three sides. The gallery was walled off by the gable wall. The building no longer exists.
The Mennonite cemetery has a rectangular-like layout and is divided into 4 sections by lime alleys. It is surrounded by limes. There are gravestones with the following names: Bernard Bergmann, Bernard Classen, Dietrich Djamin, Maria Dick, Abraham Ens, Gertruda Ens, Maria Ens, Peter Suckau, and Maria Wienp.
---
ME, t. III, s. 267, Lipińska t. III, poz. 159; Warchoł,