gm. Suchy Dąb, pow. gdański, woj. pomorskie

Until 1945 , Stüblau (Schrötter), Stieblau (Endersch), Stobbelaw (Gotha)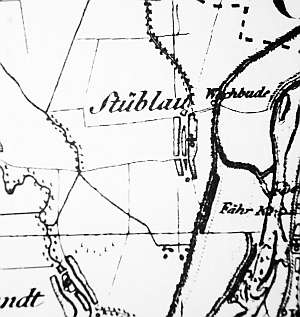 The village was mentioned in 1317 and was granted the Chełmno charter in 1343 by the Grand Commander, Rudolf von König.
Village layout - originally, a linear and square village; currently - a linear village in a north - south line and a colonial village.
The cultural landscape has partially survived. There are ruins of a Gothic church with a Wessel chapel and a lapidarium with several gravestones. The village has 2 arcaded houses from the 2nd half of the 18th century (no. 15-17, and 24), 2 masonry houses from the 3rd and 4th quarters of the 19th century with remains of outbuildings, and 3 Dutch homesteads (the end of the 19th century and beginning of the 20th century) in colonies on the eastern side of the road to Giemlice.

A building without a number is a copy of an old longitudinal Dutch homestead designed by V. Zitkwitz and erected in 1938. It is situated (with 3 other homesteads) in a colony, on the eastern side of the road to Giemlice, facing it with its ridge. A house and a cowshed have a common (ceramic) roof. The buildings have plastered brick structures in the lower sections and wooden, vertically boarded pointing sills, and a vertically boarded, framed gable. The homestead includes a vertically boarded, higher, half-timbered barn. The interior layout has nothing in common with that of the traditional Żuławy house. It has a 2-bay layout with a row of rooms - a children's room, a living room, and a bedroom in the western bay with a direct entrance to the living room. It also has a large kitchen, a staircase, and an office in the second bay. The cowshed interior has also been modified - sections for each type of animals have been clearly allocated.
---
Zirkwitz, s. 77; Lipińska, t. III, poz. 51.