gm. Stegna, pow. nowodworski, woj. pomorskie

Until 1945 Steegenwerder (Schrötter) na mapie Enderscha wieś nie oznaczona lecz obszar pomiędzy Szkarpawą a Mierzeją nosi nazwę Gross Stegner Werder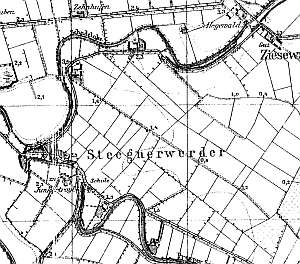 The village was established in 1650 by Dutch settlers. Initially, the name referred to the estates of Junkertroylhof, Ziesewald, and Steegnerwerder. Steegnerwerder was formed from homesteads belonging to a colony of the village of Jurkertroyl located by an intersection of local roads and the canals Presper See and Shadelake and two large colonial farms by the road to Ziesewald. In 1820, the village had 172 residents, including 9 Mennonites.
Village layout - a flood bank Waldhufendorf village on terpy.
The cultural landscape has been partially preserved. In 1980s, 9 homesteads still had historical buildings. However, some of those buildings have been replaced or demolished (farming sections). A system of draining ditches and polders is still detectable. The homesteads no. 8, 11, the wooden house no. 9, 4 masonry houses, and a manor have survived. . .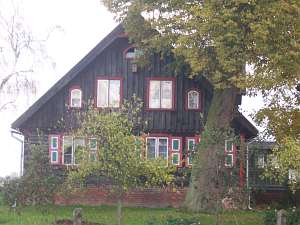 No. 8 is a longitudinal Dutch homestead (earlier, possibly angular type) situated in the eastern section of the village, on the northern side of the road, facing it with its ridge. A long cowshed is separated from a house by a high fire wall. Its ground floor is made of brick and the eastern section has a vertically boarded half-timbered structure; the interior has been transformed. A barn has been taken down. The house dates from 1870 and has a brick foundation, a log structure with quoins covered by boards imitating Tuscan pilaster, a vertically boarded gable, a wooden attic room in the southern roof slope, a wooden porch (south side) in front of an entrance, and a tile roofing. The gable elevation has 3 axes and a 2-level gable with 4 axes in the lower section, two windows enclosed by rectangular skylights topped by segmented arches, and a semicircular skylight above. The southern elevation has 5 axes and an entrance with a porch in the 2nd axis from the east. The attic room has 3 axes. There is a date and a small rectangular window above lower windows. The homestead has a brick outbuilding on the southern side and a wooden coach house/granary in the southeastern section of the yard.
---
Penner, s. 35; Lipińska, t. III, poz.252; AG.