gm. Strzelce, pow. kutnowski, woj. łódzkie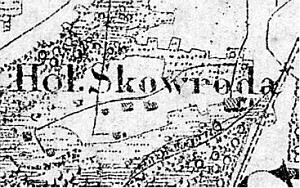 The village was colonized by the Dutch settlers ca. 1800. In 1827, it had 8 houses and 39 residents; however in 1889, it only had 3 residents. The village ceased to exist at the end of the 19th century and it does not occur in the atlas of the Republic of Poland published in 1902.
The village was situated along an east-west line between northern and southern Skowroda. The road system in Holendry S. had survived until the 1950s, but later, as a result of drainage works, was eliminated. Buildings that draw on the traditional Dutch designs - the farm and residential sections situated under one roof - can be found in both villages. These buildings date from the interwar period.

---
SGKP, t. X, 1889, s. 713.