gm. Suchy D±b, pow. gdański, woj. pomorskie

Until 1945 Zugdam TK (Schrötter), Tzugdam (Gotha), Zuchdam (Endersch), Suchedam Osterwick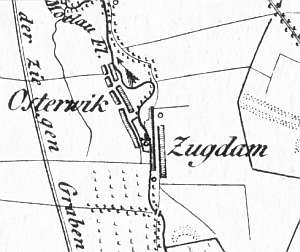 The settlement was formed from two earlier villages - Suchy D±b founded by the Teutonic Knights and Ostrowie, which in the 13th century belonged to Olivian Cystercians and later to sons of the Gdańsk chamberlain Unisław, who sold it to the Teutonic Knights in 1310. Between 1454 and 1793 and then between 1807 and 1814, the village belonged to the city of Gdańsk.
Village layout - a one sided linear village and a linear village (on both banks of the Motława) after the merge with Ostrowie; in the 19th century, there were 7 large Dutch farms with arcaded houses on one side and 2 large farms of the other side with a row of small gentry houses.
The cultural landscape has been transformed. The majority of buildings are modern and have a non-traditional design, which transforms original layouts. There is a rebuilt Gothic church and a Baroque presbytery in the southern section of the village. Ca. 7 historical masonry buildings from the end of the 19th century and beginning of the 20th century have survived to the present day. Two arcaded houses have not been preserved. The last remaining wooden buildings are located by the northern road.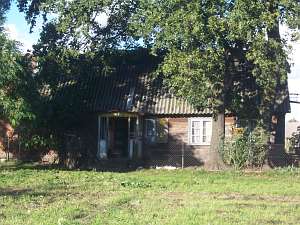 No. 8 is a house from a Dutch homestead located in the northwestern section of the village. The building dates from the mid 1800s and has a log structure with covered quoins, a vertically boarded gable, and a 6-axial ridge elevation with an entrance in the 3rd axis from the north.
---
Kloeppel, s. 151, KZSwP, s. 56 - 58; Lipińska,t.3- poz. 52.