gm. Stegna, pow. nowodworski, woj. pomorskie

Until 1945 Scharpau TK (Endersch, Schrötter), Scharwan (Gotha)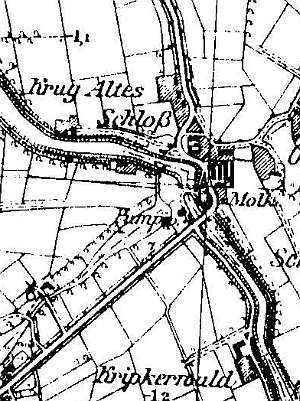 The village was founded in 1342. Dutch colonists settled in Szkarpawa after 1600 - most probably ca. 1626. The village includes an old estate (densely built-up) situated at the crossing of three canals and the Linawa and formed by expanding an old Dutch farm (with a dairy), several colonies located by the Alter Damm canal, 4 farms - Nidere Scharpen (currently, the area of Swierznica), and homesteads on terpy located towards the village of Bronowo and Kuchwerder. There was a windmill in the area.
Village layout - a flood bank Waldhufendorf village.
The cultural landscape has been completely destroyed by construction of a housing development associated with a state farm. Basically, no historical buildings have survived. Vegetation lining roads, a field layout, and a part of the canal network have survived.

There are no buildings unequivocally associated with the Dutch colonization.
---
Penner, s. 41-42; Lipińska, t.III, poz. 256